Here at Rhapsody, I offer full conformationshow grooming, training and boarding for most toy breeds, Dachshunds and some non-sportingbreeds. All dogs live in my house during their stay with me. I have fulltime help at home at all times to assist in my professional care of all my client dogs. I attend manyshows in the TX, LA, OK, NM and MS area, as well as many regional and nationalspecialties shows for Maltese, Yorkshire Terriers, Shih Tzus, Dachshunds and Lhasa Apsos. I havepersonally shown Multiple Best in Show Winning, National Specialty Winning, Multiple Group winning, Best in Specialty Show winning,and Specialty winning dogs. I also attend Westminister, Progressive ToyDog Club, and Specialty shows in Feb in New York City. I live in the Central Texas.

Call for more information on my Handling Contract and Rates.

If interested please contact me:
Tonia Holibaugh
Rhapturee Kennels
(512)-810-9086
Emailaddress: RhapsodyMalt@aol.com
Championsshown here at Rhapsody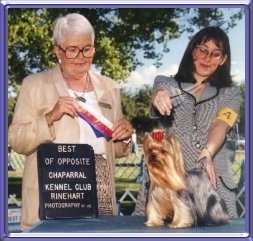 The pictures above are some of my client's dogs :
top left - CH Nealstar's Mystical Celebration (yorkshire terrier)
owned by Thetis Neal, top right - Embar's Murphy (chihuahua) owned
by Kathy Rhoades, bottom left - CH Glenmary's William of Lufra (papillion)
owned by Linda Council and Frieda Council, bottom right - CH Shenel's
Ruby Slipper (yorkshire terrier) owned by Sherida Nelson.