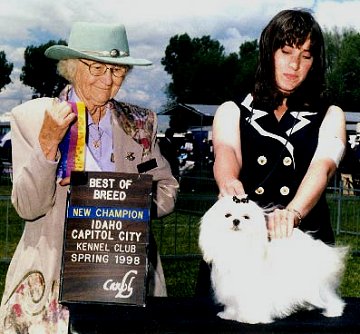 (CH Marcris Risque' Business ROM x CH Erinlee Rhapsody in White)
CH Rhapsody's Wickedly Risque'
"Wicked"
Wicked, owned by June Kozen, has a true upturned baby doll face. She has a silky coat and a short back. She finished in style with the wind blowing through her hair. She was only shown 9 times in her entire show career. Wicked is Risque's 51st champion. Wicked will now go home to start her new career as a fulltime mommy.


Champion get:
CH Signatur... Zorro of Wicked (D)
CH Signature Wicked Victory (B)