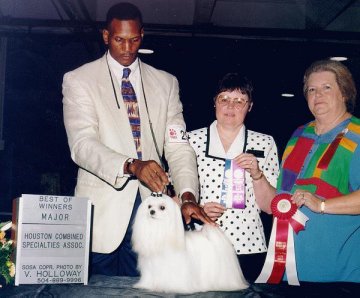 (CH Marcris Indecent Proposal ROMX x CH Hi-Lite's Heathers A Showoff ROM)
CH Divine's Indecent Gossip
"Gossip"
Gossip is shown above winning Winners Bitch at the Maltese Specialty of Greater Houston under breeder/judge Peggy Lloyd. She is being shown by handler Hiram Stewart. Gossip has the most luxurious silk coat, shown here in almost full specials coat at 14 months of age. Gossip is owned by Larry and Angela Stanberry of Divine Maltese, and bred by Angela Stanberry and Tonia Holibaugh.

Rhapsody's Homepage