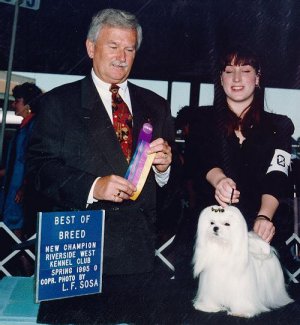 (CH Pashes Moonlight Beau ROM x Pashes Ramblin Revue)
CH Pashes Buttons and Beaus
"BeBe"
Bebe is shown above winning her third major, completing her requirements to become a champion. She has a baby doll head and a lovely silk coat. She now lives with Angela and Larry Stanberry of Divine Maltese and was bred by Sheila Meyers and Patsy Stokes of Pashes Maltese.


Rhapsody Home Page